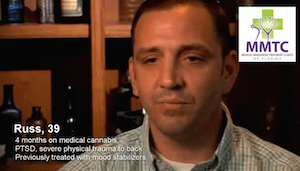 My name's Russ, I'm 39 years old. I'm in Florida working on my paramedic degree. I did 14 years in the military. In 2008 I got blown up by an IED, broke my back. I handled the pain and PTSD with drugs and alcohol, and it got bad. So we went to the VA and they filled me full of pills. That's when we looked into getting my service dog Ellie.
I took 9-10 pills in the morning and another handful like that every night. Since I've come here, I don't take any of those pills in the morning. I do take some nighttime pills, but I don't take mood stabilizers like I had to. I've been treated with medical cannabis four months, and it has made a huge change.
I came to Dr. Dorn, and it seemed like I already had known him. I think the the best thing is, if I had any questions at all, he would answer them.
I do not have to swallow ten pills every morning, I love that, and it keeps me calm. It used to be if I didn't take my morning pills on time, my wife would notice the difference within 45 minutes. Now she didn't even know I hadn't needed it or been taking it for the last month.
*This testimonial is based on a transcript from this video testimonial.